What's New in South Coast Metro?
There are benefits to living and working in South Coast Metro.
Another Coup for South Coast Plaza
New in South Coast Metro 11-09-17
From the Orange County Register 
Sunday, November 5, 2017     

By Nancy Luna
nluna@scng.com
fastfoodmaven on Twiter

Retail & Restaurant Roundup: Another Coup for South Coast Plaza
The Hall, a new global eatery and marketplace by Amar Santana, is coming late next year to South Coast Plaza.
The hospitality team behind Vaca in Costa Mesa and Broadway by Amar Santana are taking over the 7,850-square-foot space left vacant two years ago when Z'Tejas Southwestern Grill closed.
Marice H. Depasquale Represents Division III on Mesa Water's Board of Directors
Mesa Water District (Mesa Water®), a top-performing public water agency, welcomes Marice H. DePasquale to its Board of Directors (Board) representing Division III of the District's service area. Division III encompasses North Costa Mesa, including the Halecrest neighborhood, with landmarks such as South Coast Plaza, Segerstrom Center for the Arts, and Orange Coast College.
Ms. DePasquale holds a Bachelor of Arts degree in Political Science from the University of California, Irvine (UCI), and has extensive experience managing unique public affairs issues for clients, including C.J. Segerstrom & Sons, Crystal Cove Alliance, Home Depot, The Irvine Co., Pebble Beach Resorts, and Starbucks. She has served on UCI's School of Social Science Dean's Board of Counselors, and the City of Huntington Beach's Affordable Housing Committee, among other organizations.
"Mesa Water is a unique agency with an impressive list of accomplishments," said Ms. DePasquale. I'm proud to serve as the Board's Division III Director, representing North Costa Mesa constituents and businesses."
As one of Orange County's most efficient water agencies with the lowest expenditures per capita, Mesa Water® has achieved an AAA credit rating from both Fitch and Standard & Poor's, surpassed 4 ½ years without a lost-time accident, and has no unfunded pension liability.
Double Debut: Internationally Acclaimed Chinese Pianist Xiayin Wang Joins Pacific Symphony to Play Gershwin's Concerto in F Led By Estonian Anu Tali
"Performing with Pacific Symphony for the first time is international sensation, Chinese pianist Xiayin Wang, whose sublime talent gives fresh, dynamic energy to Gershwin's Concerto in F. Considered an artist of keen musicality and sweeping virtuosity, Wang brings audiences to their feet with her riveting playing. The Washington Post called her playing "precise and strong," her drive "unrelenting" and her concentration "intense." Considered Gershwin's most classical piece, the Concerto in F represents the ideal blend of the rhythmic liberty of jazz fused with classical roots. And, making her debut on the Symphony's podium is outstanding Estonian Conductor Anu Tali, one of the most intriguing young conductors on the scene today.
Tali, who leads both the Sarasota and Nordic Symphony Orchestras, serves as guest conductor for this program, which also features Smetana's enchanting "The Moldau" and Dvořák's dramatic Symphony No. 7. Plus, the audience is treated to image magnification projected on large screens for an up-close look at the artists. The program takes place Thursday through Saturday, Nov. 30-Dec. 2, at 8 p.m. in the Renée and Henry Segerstrom Concert Hall. Tickets are $25-$126; Box Circle, $196-$206. A preview talk with Alan Chapman begins at 7 p.m.
For more information or to purchase tickets, call (714) 755-5799 or visit 
PacificSymphony.org
."
Pacific Chorale to Present Three Holiday Concerts in December
"Pacific Chorale, the resident choir of Segerstrom Center for the Arts, will be presenting its popular holiday concerts in December.
Carols by Candlelight
A magical evening of traditional carols and classical Christmas works presented by a chamber choir of Pacific Chorale's professional singers in an intimate candlelit setting.
Date: Saturday, December 2
Time: 8:00 p.m.
Conducted by: Robert Istad, Artistic Director
Location: Our Lady Queen of Angels Catholic Church
2046 Mar Vista Dr., Newport Beach, CA 92660
Tickets: From $25 to $70
Call 714/662-2345
Tis the Season!
This popular family holiday extravaganza in the Renée and Henry Segerstrom Concert Hall at Segerstrom Center for the Arts is a holiday favorite. The internationally acclaimed Pacific Chorale, led at these concerts by Artistic Director Robert Istad in his first season with the Chorale, will join forces with the Southern California Children's Concert Chorus (Lori Loftus, Founding Artistic Director and Conductor) and the brass and percussion of Pacific Symphony. A visit from Santa Claus will delight all.
Dates & Times: December 17 at 5:30 p.m. ; December 18 at 7:00 p.m.
Conducted by: Robert Istad, Artistic Director
Location: Renée and Henry Segerstrom Concert Hall, Segerstrom Center for the Arts
600 Town Center Drive, Costa Mesa, CA 92626
Tickets: $29 to $140
Call 714/662-2345 (Pacific Chorale) or 714/556-2787 (Segerstrom Center)"
Hilton Orange County / Costa Mesa
2017 Fall/Winter Group Promotion
10-25 peak rooms – choose 2
26-50 peak rooms – choose 3
51-100 peak rooms – choose 4
100+ peak rooms – choose 5
• 1/40 complimentary room night policy
• 1/10 complimentary parlor suite upgrade
• Complimentary meeting space (room to space ratio applies)
• 1/10 complimentary self-parking pass
• 1/20 complimentary valet parking pass
• One (1) complimentary VIP welcome amenity per 25 room nights contracted
• Complimentary basic guest room WiFi
• Complimentary wireless meeting room Internet (number of logins equal to number of rooms on peak)
• Complimentary one-hour reception for the number of guests equal to the number of guestrooms on peak night of the scheduled event
• A signing bonus of 1,000 Hilton Honors points for every 10 room nights booked up
Call the sales office at 714-513-3430, visit the 
website
, or email SNACM-salesadm@hilton.com for more details or to book your next event now!
It's As If You Were Hosting – Only Less Work
You won't find just any turkey at the center of Seasons 52'S Thanksgiving dinner – only one that's been humanely raised and never ever given hormones or antibiotics. Reserve now and prepare for a celebration up to your high standards.
Thanksgiving dinner* served all day:
Adults $27.9 | Kids $12.9
*Dinner menu also available all day
Cooking Class | Friday, November 17th at 6:30 pm : Join Antonio and Fiorella Cagnolo for our last cooking class of the year! Watch and learn how to make some of Antonello Ristorante's most delicious plates! Includes a delicious four course meal featuring the evening's selected menu items. $65 per person, plus tax and gratuity.
Christmas Eve | Sunday, December 24th at 5:00 pm : Come celebrate Christmas Eve at Antonello! As a rare treat, we will be opening our doors Sunday to accommodate all our guests wishing to celebrate the holiday with us. Buon Natale!
Gift Card Promotion: Between November 1st and December 31st, receive 10% back on Antonello Specialty Restaurant Group gift card purchases for every $100 spent! For purchases of $500 or more, customers also receive a free bottle of Hello Kitty Sweet Pink wine. For purchases of $1000 or more, customers will receive a numbered, limited edition collectors bottle of Hello Kitty Sparkling Rose! Gift cards are available for purchase at both Antonello Ristorante and Quattro Caffe.
Season Selection
Silver Trumpet Celebrates Fall & the Holidays
Head Bartender and Mixologist Grace LaPointe has crafted five new exquisite cocktails rich with autumnal inspiration–a suitable tribute to the holiday season! Visit Silver Trumpet through January for these tasty libations with bold flavor!
THE GREAT GATSBY
serves two guests in a luxury copper pineapple goblet / absolut elyx / solerno blood orange liqueur / pineapple juice / grapefruit juice / orange bitters / rosemary / pomegranate seeds / dehydrated orange

PUMPKIN SPICED UP LATTE
grey goose l'orange vodka / kahlua / pumpkin spice syrup / half and half / cinnamon

POMEGRANATE ALEXANDER
christian brothers brandy / pomegranate juice / lemon juice / cinnamon simple syrup / pomegranate seeds / brown sugar-tajin rim
WINTER'S TALE MULE
fernet branca / st. george spiced pear liqueur / lemon juice / honey-ginger syrup / soda / candied ginger / cloves / orange

CRANBERRY KISS
spicebox canadian whiskey / cranberry sauce / vanilla syrup / lemon juice / soda / allspice / rosemary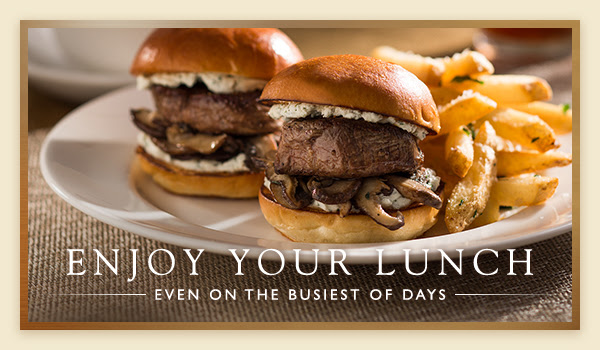 Make a Selection from their Plates Menu
For elegance even when time is of the essence, look no further than Plates at The Capital Grille. For a weekday lunch they can treat you promptly – and properly – in a mere 45 minutes, with all the remarkable service and selection to which you've grown accustomed. Enjoy two courses for $20 like our Mini Tenderloin Sandwiches accompanied by Parmesan Truffle Fries, with your choice of chowder, bisque or salad. It will be a welcome respite, and always on the schedule your day demands.
Holiday Season at South Coast Plaza
 Friday, November 17 – Tuesday, December 26
South Coast Plaza will offer special amenities including complimentary hot cocoa and cider every Saturday and Sunday; holiday entertainment every Thursday through Sunday; photo packages with Santa; holiday crafts; Santa Express Train; and holiday decor.
SPECIAL HOLIDAY HOURS
November 23 (Thanksgiving Day) CLOSED
 November 24 8am–10pm
November 25 9am–9pm
November 26 9am–8pm
November 27–December 2 10am–9pm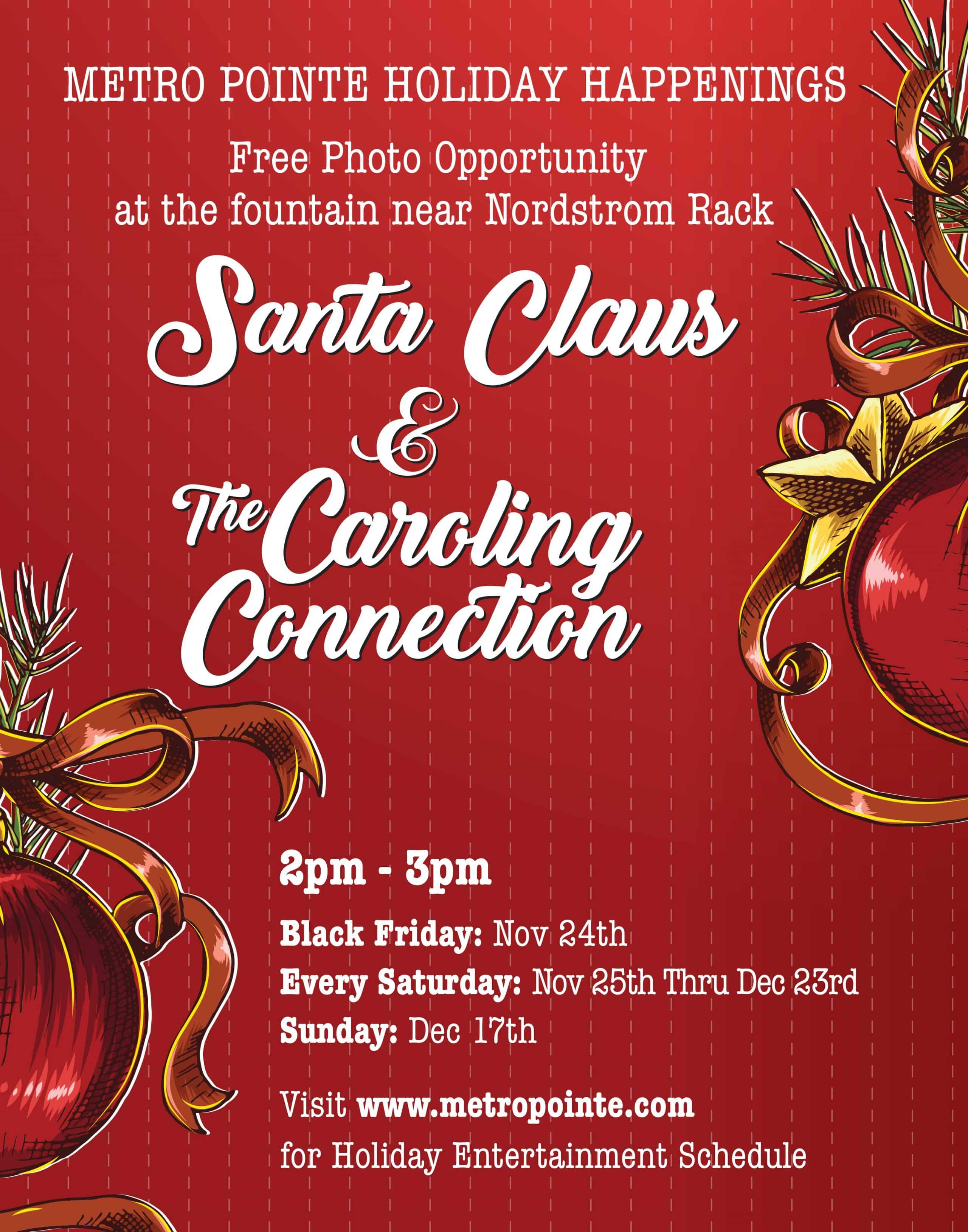 Celebrate the 2017 Holiday Season at Metro Pointe!
Santa and The Caroling Connection will be strolling Metro Pointe Friday, November 24th and every Saturday starting November 25th from 1pm to 4pm through December 23rd. Bring your camera for free photo opportunity with Santawhile you're visiting! Special Holiday musical
performances will also be taking place.
For a complete list of holiday festivities and entertainment November 24th through December 24th, please visit the website.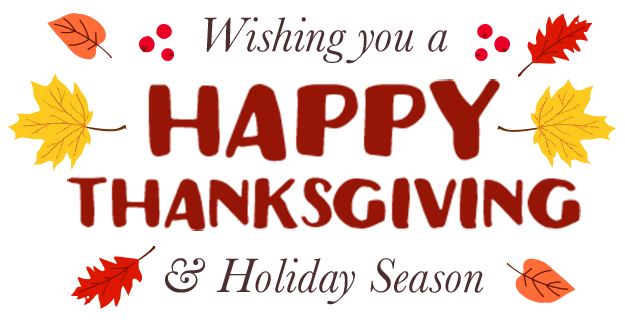 Check out the 2017 edition of the South Coast Metro 360!
The glossy, full-color magazine that covers Orange County's  cultural, culinary and commercial center. Visit our website at southcoastmetro.com or call Diane Pritchett  for a hard copy of the 2017 issue: 714.435.2109
South Coast Plaza Gift Certificates South Coast Plaza gift certificates make the perfect gift for Father's day. For more information contact Diane Pritchett: 714.435.2109.